Alcotec 48 Carbon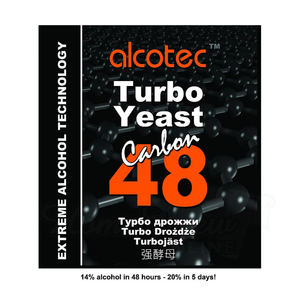 Alcotec 48 - Carbon Turbo Yeast 175g sachet containing Turbo Yeast AND Carbon all in one 14% Alcohol in 48 hrs 20% Alcohol in 5 days Makes up to 25 litres
Alcotec the Turbo Yeast 48 the Carbon is an extra pure especially developed the variant of Alcotec 48 - the world's best selling turbo yeast .
As with Alcotec 48 itself, it is based around a "pure" yeast strain which is a temperature tolerant, high alcohol distillers strain and a very precisely composed nutrient.
But we did not stop there, we have here also added a mixture of high specification activated carbons to push the limits of purity and odour-less fermentation.
The precisely composed nutrition, containing its own nitrogen source, a pH regulator, trace minerals, vitamins and an anti-foaming agent, it is the perfect yeast compound for creating a high alcohol wash up to 20% but it can also be used for extra fast fermentations to 14% alcohol. Comes in 175g sachets